Gingerbread Day is December 12, and we are ready to explore some Gingerbread fun for the upper elementary classroom!
We are huge advocates of using as many different methods of engaging students as possible in the upper elementary classroom, especially if you are most of the way through the first semester, close (but not too close) to the holiday break, and students are getting a little fidgety.
That is part of what makes Gingerbread Day such a fun day to celebrate.
If you haven't already been using the Holiday of the Day Writing Prompts, you may want to get your hands on the December set as it includes Gingerbread Day as well as a bunch of other December daily holidays you could be celebrating as you gear up toward your winter break.
Holiday of the Day Writing Prompts are daily writing prompts that you can use with students to celebrate daily holidays all year long. These are great for morning meetings, quick transition activities, or even the foundation for ongoing activities in your classroom.
Gingerbread Day Digital Activities
If you're going to have a whole day devoted to gingerbread, then you will probably want a few digital activities that you can use to fill in as needed.
This December Sticker Style activity includes an activity where students answer questions related to reading skills to earn digital stickers to decorate their gingerbread houses.
Reading and Language Arts Activities
Let's explore a few reading and ELA activities you can use specifically to celebrate Gingerbread Day.
First, you can read and analyze different versions of the gingerbread man story, such as "The Gingerbread Boy" or "The Gingerbread Girl," and then have students write their own gingerbread-themed stories or create alternative endings to the traditional tale.
Here is a writing prompt you can use on Gingerbread Day as well.
The gingerbread house is a staple for many families during the holiday season, increasing in popularity after the fairy tale "Hansel & Gretel" by the Brothers Grimm. Describe, in detail, how you would build and decorate a gingerbread house if you had unlimited resources.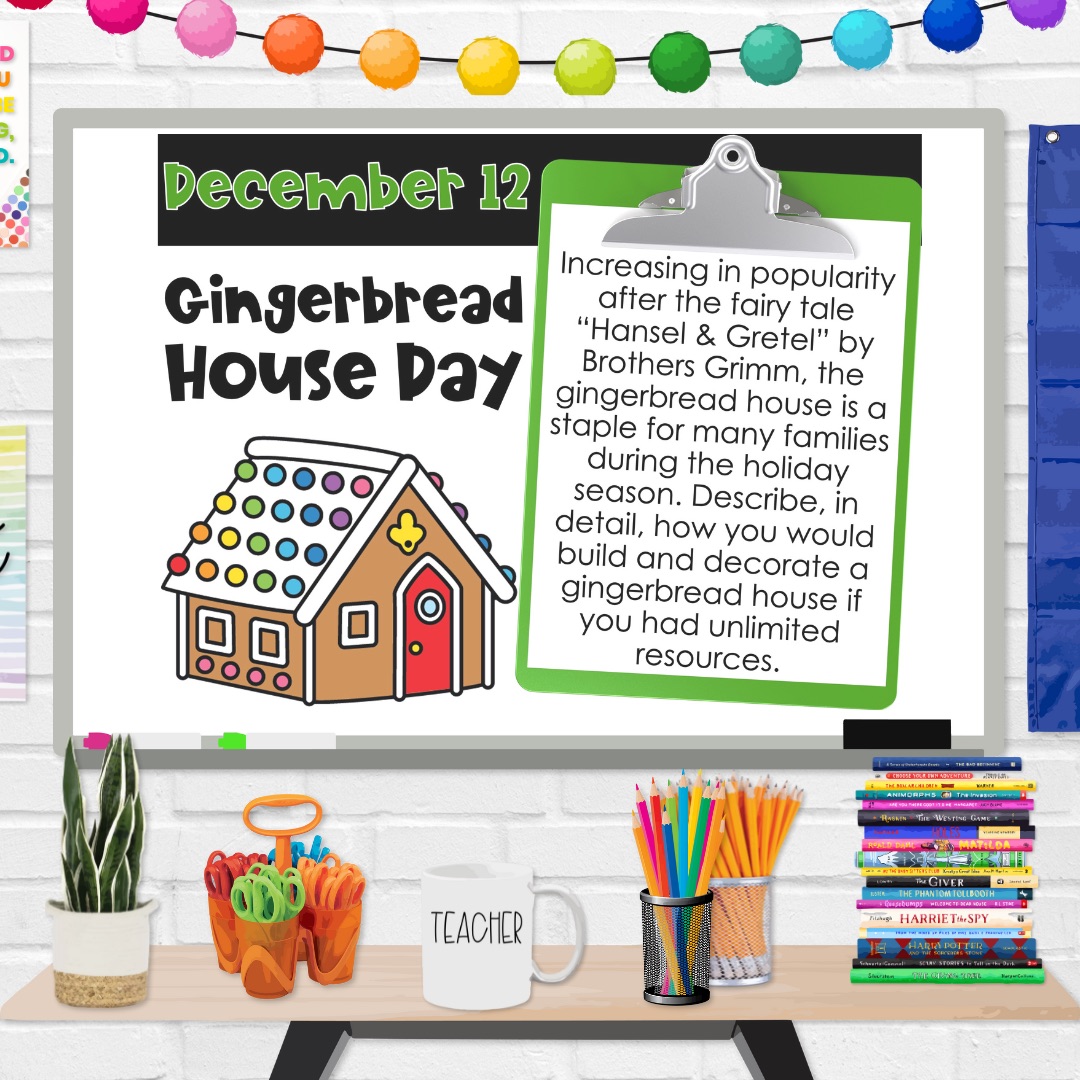 These are the kinds of writing prompts that you'll find as part of the Holiday of the Day Writing Prompts resource.
Math Activities for Gingerbread Day
This one may take a little preparation, but for some extra special gingerbread fun for upper elementary on Gingerbread Day, consider creating gingerbread-themed word problems for students to solve. Your prompts can work on quantity, measuring, basic geometry, and many more skills based on where your students are in their learning for the year!
If you are willing to bring actual gingerbread cookies into the classroom (or have your students make their own), you can measure different-sized gingerbread cookies using rulers or non-standard units and compare their sizes.
If you really want to make your students work hard on math-related skills and have a little gingerbread fun at the same time, challenge them to create a template for 'The Perfect Gingerbread House' using cardboard. The group will then have to provide the correct dimensions for their build so that another group can recreate their 'gingerbread' house.
In this post about measuring activities, we describe an activity where students create a gingerbread house template from scratch. Click here to check it out!
Science Activities
Explore the concept of states of matter by making gingerbread playdough or gingerbread-scented slime.
For more advanced groups, divide students into groups with gingerbread houses for each. Have them build their house as stable as possible using any variety of materials you have. Slowly add weights to each gingerbread house to see which house can withstand the most weight to win the challenge!
Social Studies Gingerbread-Related Activities
Where did gingerbread come from, and why has it become such a staple in many households?
As part of your social studies lesson today, add in some gingerbread fun by looking into the historical origins of gingerbread and its cultural significance in different countries.
Are there any other holiday traditions that include gingerbread? How did those come to be? These are all great questions to seek answers to on this holiday!
Gingerbread Fun for the Upper Elementary Art Class
Gingerbread Day was made for art class (if I do say so myself)!
Although there are a lot of different directions you could go with this, here are a few activities you could consider trying as you pick a way to celebrate Gingerbread Day.
Have students create gingerbread-themed artwork using different mediums, such as painting, drawing, or collage.
Design and decorate gingerbread houses using craft materials like cardboard, construction paper, and candies.
Make gingerbread-themed paper crafts, like gingerbread people, houses, or ornaments.
Using piping bags and icing to actually practice cake decorating as part of your artistic practice today.
December 12th doesn't have to be just another day on the runway to your school's winter break. Instead, make this year a little more special by adding in some gingerbread fun for the upper elementary classroom.
Gingerbread Day is a day to enjoy, and we can't wait to see how you decide to celebrate!
More Holiday Fun
Holiday Picture Books for Read-Aloud: Countdown to Break