Teaching figurative language in 5 days is as easy as following this simple recipe.
Are you a person who likes a recipe, or are you one of those people who walks into the kitchen with a fly-by-the-seat-of-your-pants approach to baking?
Personally, I like the recipe. I like knowing tried and true ways to get things done right the first time.
Sometimes being in the classroom is just like baking. A recipe can save you a lot of heartache and headaches, so today, I'm going to lay out a recipe for teaching figurative language in five days.
Day 1: Introducing Figurative Language
Day 1 is all about learning the basics. We're talking about terms, definitions, and examples for each and every language type. 
When introducing this new information, you can use direct instruction, Flocabulary videos, or something like Brainpop (if you have it).
Now, here's the thing, we don't want all the learning on day one to go to waste, so we need to make sure students are taking notes so you don't have to reteach the same vocabulary lesson and examples for 5 days in a row. Personally, I've always been a fan of flipbooks when I'm introducing new information to students (especially vocabulary), and these flipbooks have places for students to record both definitions and examples.
Day 2: Review
Today, we are going to try really hard not to review rather than repeat. We want to focus on adding to our students' new knowledge rather than just repeating our lesson from day 1. With that in mind, the goal for the day is to find examples.
My favorite way to review on day 2 is with songs that have figurative language in the lyrics. Most songs have figurative language in them, so print out the lyrics to the song for students to reference and then play the song as students work. Consider using even simple songs that many children already know. For example, Twinkle Twinkle Little Star includes an example of a simile and Mary Had a Little Lamb includes an example of alliteration and simile, and The Wheels on the Bus uses onomatopoeia. 
Use these songs and others to find examples of figurative language in music. Do this activity as a full group, and when you're done with the music examples, break students up into groups to find examples in books and other materials found around the classroom. Maybe you have examples in classroom posters, on your coffee mug, or even on someone's shirt or a sticker on their binders or notebooks.
Encourage students to look for examples around the space and in the classroom reading materials and books, and then document their examples as a group on a piece of chart paper to share with other students at the end of class or as a warm-up on day 3.
While students worked, I liked to move about the room and make sure examples were good ones, and offered assistance as needed. When the examples were presented to the class, students could write down one (or several examples) in their flipbooks.
Day 3: Group Game Day!
Now, we all know that when students start feeling confident about their skills, it is time to let them show off a little. That is why day 3 is all about playing some games. 
At this point, we aren't going to send students off on their own quite yet. That is coming on day 4. Day 3 is about having fun with our new figurative language knowledge, but in a situation where the teacher can provide some instruction and extra guidance as needed.
We have a couple of different figurative language games that would be great for day 3. The first is the Digital Review Game which allows students to identify examples and then move along a digital gameboard, or the Figurative Language Game Show, which is a Jeopardy-style game.  Both can be played with whole groups. To learn more about digital review games, check out this blog post.
Day 4: Figurative Language Stations
Day 4 is all about letting students spread their wings and fly. Today, we are going to back off on a lot of the direct support and take on more of an observation role as students explore centers related to figurative language.
We have a bunch of resources that may be helpful on day 4. Take a look, and pick your favorites!
The Figurative Language Sort [Freebie found in this post or my Freebie Library]
Seasonal Options:
Day 5: Assess
After four days full of learning about and reviewing figurative language definitions and examples, students are finally ready for their first assessment.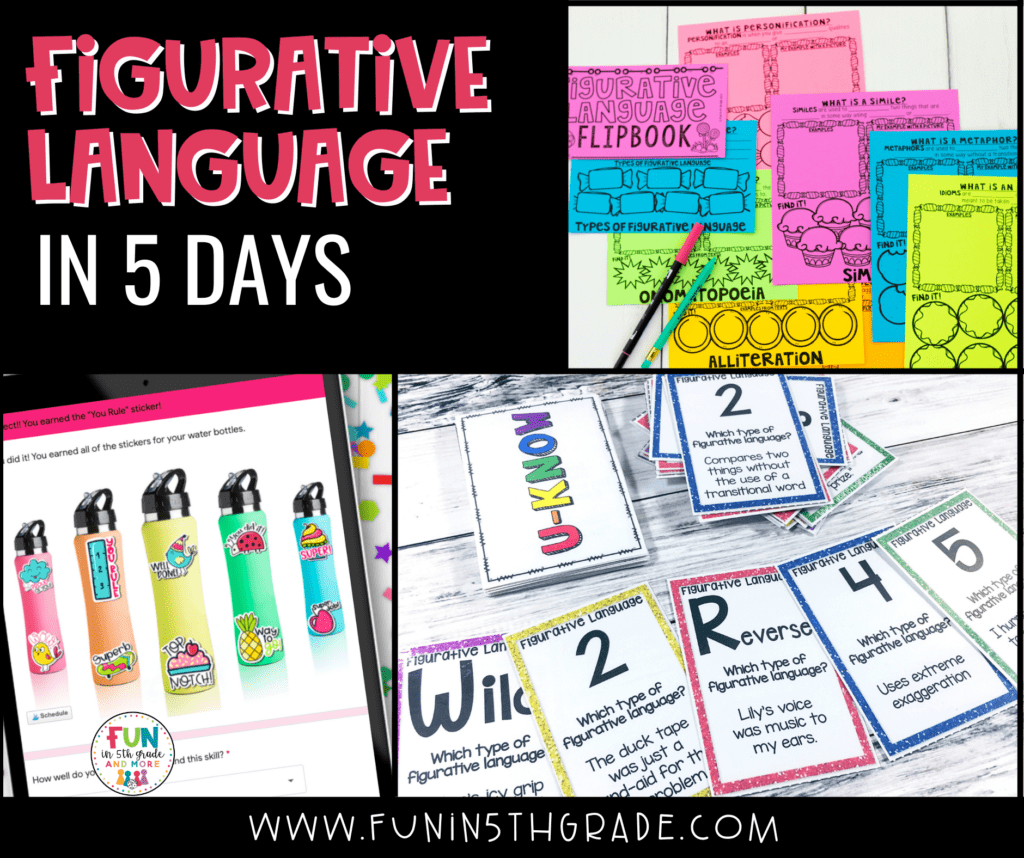 Figurative language is something you will want to revisit throughout the year, but day 5 is a good time to get a baseline of student knowledge as you decide what additional support students will need moving forward.
As you create an assessment, consider using the examples in this blog post to build out an assessment. The blog post is actually written with many figurative language examples built into it, so you may even consider using a printout of the blog post as an assessment for day 5. 
---
More than one way to bake a cake
Hopefully, this 5-Days to Teach Figurative Language run-down is exactly what you need to finally wrap your mind around teaching figurative language to your upper elementary students.
However, we all know there is more than one way to bake a cake, and there is more than one recipe for a great figurative language lesson. If you have a secret ingredient for teaching figurative language, we'd love to hear about it in the comments below!