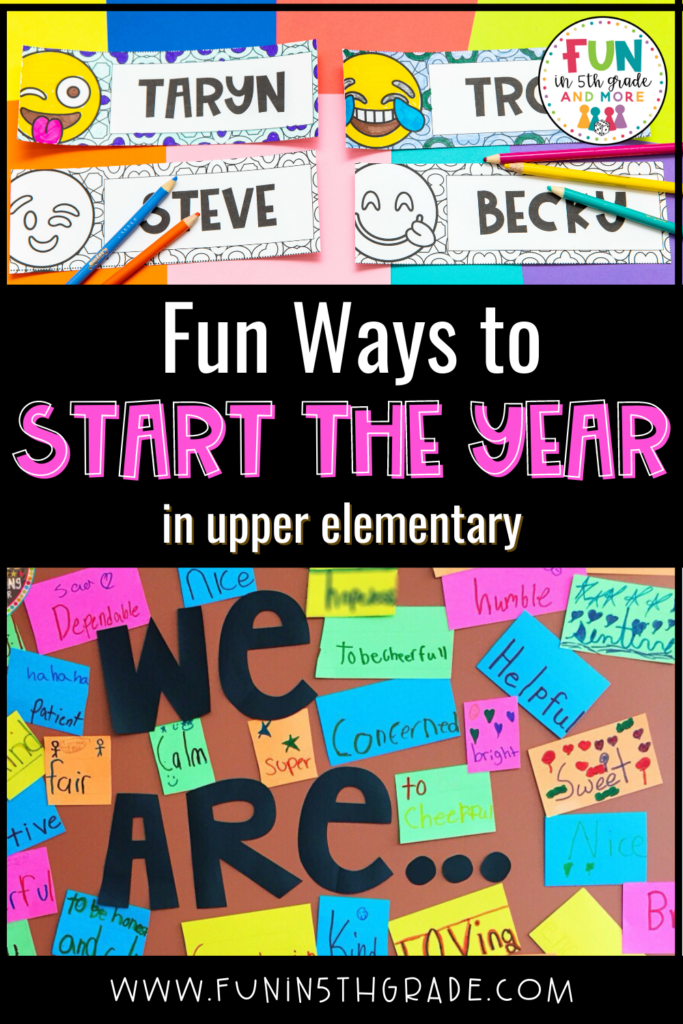 If you are looking for some fun ways to start the year with your upper elementary students, then consider adding in one of these 5 ideas!
It's back to school time, and we are gearing up for another fantastic year in upper elementary.
As a student, I always loved back to school season because I got to see my friends again, make new friends, buy school supplies in all the colors and designs, and start down a brand new path that I was always sure would be my next great adventure.
Back to school time for students holds so many possibilities and exciting challenges, and oftentimes, teachers feel the exact same way.
With a whole new group of students and parents to work with, new coworkers to talk to, and often a new curriculum to finagle, back to school season is just as much an adventure for the teachers as it is for the students.
That is why we want to make back to school time easy and fun (for both the students and the teachers).
In this post, we aren't talking about assessments or classroom procedures. We are talking about fun ways to start the year with your upper elementary students.
Fun Ways to Start the Year with Your Upper Elementary Students
The beginning of the year is the perfect time to figure out what makes your students tick, what gets them excited, and what kind of classroom activities motivate them to do well. Using the ideas on this list, you'll engage your students in a variety of ways with the goal of learning more about them and identifying what motivates them to work hard.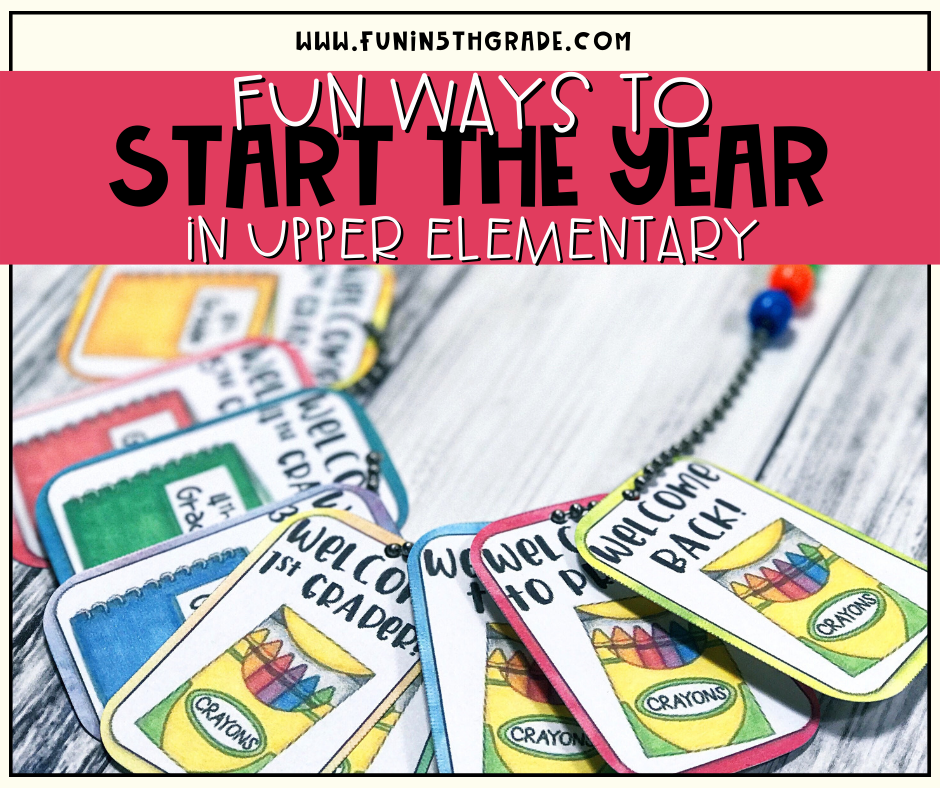 Reading is an integral part of the school year, so figuring out if your students are fans of reading is a good thing to know. This is also the perfect time to see if your students like a little swag.
As someone who has attended a variety of conferences and get-togethers, I know that for some people, a swag bag is the greatest gift a person can give. 
This year, create a little swag bag for your students and throw in a few of these editable bookmarks (Grab them in my Freebie Library). Come up with sayings, quotes, or motivational phrases that will set the mood for the year, or create bookmarks with your students' names. No matter what you decide, these editable bookmarks are sure to serve you well!
If you love the idea of a Swag Bag, don't stop at bookmarks. Throw in some of these Braggin Badges as well. These Braggin Badges (also in my Freebie Library) come in various styles and themes and can be collected throughout the year. 
In your Swag Bag at the beginning of the year, you can include the Welcome Back Badges as well as the chain to put it on. Students can then continue to earn and add to this 'dog tag' style necklace throughout the year.
#3 | Game Shows
The beginning of the year is a great time for a little friendly competition, and running a class-wide game show is a great way to get students interacting with others and playing together as a team.
Our Game Shows come in many different themes, but here are some you may consider for Back to School time…
The review games will challenge the students while also acting as a pre-assessment of the skills, and the classroom procedures game show will allow you to go over your classroom expectation in a fun way.
If you're looking for more ways to review classroom procedures, check out this blog post as well!
#4 | Character Traits "WE ARE" Activity
If you're looking for fun ways to start the year with your upper elementary students that also allows you to get a sneak peek into the year's curriculum, then you may want to include this Character Trait "We ARE" Activity. This activity is easy to set up and even easier to display.
After talking a bit about character traits and looking through the "Character Traits A to Z" booklet, ask students to evaluate the list and choose 3 positive character traits they think they have. Give them 3 sentence strips (or less depending on how many you want them to have), and ask them to write their character traits on them. Then create a "WE ARE…" board where students can post their strips and will be easily able to see them. I always put it on my door, but any space will work (even a public space).
#5 | Holiday of the Day Celebrations
Holiday of the Day Writing Prompts don't just have to be used for writing prompts. They can also be used for classroom celebrations.
Another of the many fun ways to start the year with your upper elementary students is to let your students set up Holiday of the Day celebrations for the year. During their planning time, students will make plans for how the class will celebrate the holidays you've chosen to "observe."
Note: If you are really going to embrace the value of the Holiday of the Day Writing Prompts and corresponding celebrations, then you'll want to get your hands on the bundle.
In the first couple of days of school (after introducing the Holiday of the Day Prompts), spend some time with your students picking out which holidays you'll actually observe in the classroom. Give students time to brainstorm what celebrating that holiday may look like and how you might prepare as a class.
Suggestions for celebrating…
Dress up days
Holiday-themed snacks
Craft projects
Bring in something from home
Decorate the classroom
Themed week activities
A themed talent show
Special guests
There are so many fun ways to start the year with your upper elementary students, and you can do all of the suggestions on this list or just choose a few to add to your back-to-school plans. No matter what, try to keep your students' excitement and joy alive. Encourage them to take risks, get to know each other, and find the fun in learning and connecting with others!