Test prep is something I used to dread. I felt so much pressure from admin and myself for my students to do well. So, I would give students packets of practice test questions to practice over and over again. I would look out at them and see a glazed over look in their eyes. I did it because I didn't know any better. I thought to test prep was to practice the test over and over again. I hated it. They hated it. I was bored. They were bored. I just couldn't take one more year of that! So the next year I decided to mix it up a bit.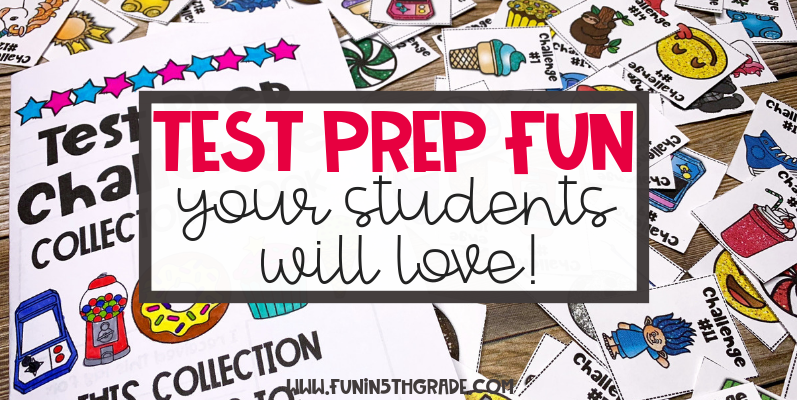 One thing I did differently to help prepare students was that I started utilizing spiral review. When I first heard of this strategy, I was sitting there thinking…"Why didn't I think of that?! It makes so much sense." So I made fun centers and games that I incorporated throughout the year to review. Reviewing in a fun way really helped students to remember all of the strategies they had already learned throughout the year. Read more about this in this post about spiral review.
Ok, enough about that…you're here for the test prep fun! So, while I did like the results from spiraling all year, I still felt my students needed some practice with the format of the test and using test-taking strategies. I wanted them to be confident in their abilities when they were taking tests so when the big test came, it was no big deal. I also wanted them to work hard so they could see that they could do it and when the real test came it would be no big deal. In addition to all that, I wanted to make test prep fun!!
Pogs…yep, Pogs for Test Prep Fun
First, POGS…now, if you're a kid of the 80's like me, you probably have heard of pogs before. For those who haven't, they are little cardboard discs featuring colorful pictures on them. Some have cartoons, some presidents, some have animals, you get the drift. Basically, kids love to collect them, even today. My students go nuts for them and it basically keeps them trying their best on the different forms of review we do. 
You can find pogs on Amazon by clicking here, or on Etsy. I made you a set of FREE challenge tags if you'd rather not go out and buy something else. Click here to download the FREE tags. Basically, I make certain things I'd be focusing on worth a pog. Maybe one day the pog could be for highlighting answers in the passage or showing all of the work for some practice math problems. You could really make anything a challenge. Even incorporate it into regular lessons in which test-taking strategies will be used. I made the set pretty generic so you have the freedom to challenge your students as you'd like.
We chose our challenges together as a class. I asked them what they think would be the best strategies or behaviors that would help them get the best score on the test. I recorded their ideas on an anchor chart and kept that list handy as we made the official challenges like on the anchor chart pictures.
Games
Another thing that I do is incorporate game stations. I take whatever the latest data I have on my students and I find where I'm having a lot of overlap in skills that many students need more practice with. I do this every Friday but I do it more often as it gets closer to the test.
Choose 4-5 skills that you have many students who need more practice. I use task cards, U-Know Games, PowerPoint Reviews, and incorporate other games and activities that use the cards like tic-tac-toe, Candyland, Sorry, Jenga, bean bag toss and more! I explain the stations to the students and split them up. 
As they work, I meet with the students who don't have much overlap with other students but are still struggling with a skill. We work in a small group together. Sometimes we play a game too, but then I'm there to scaffold as necessary or reteach misconceptions. I also watch the students as they work since there are pogs for working nicely in your groups and completing the work.
To keep them accountable while they are at the centers and I am meeting with students, I have them record their work and answers on their accountability pages. Find out more about that in this post.
Mystery Grid Pictures
Have you tried mystery pictures with your students? I don't know what it is about them, but my students always LOVE them. If I could incorporate a mystery grid picture into their work….instant engagement! So, that's just what I did! You can see all of my close reading with mystery picture sets by clicking here. I have holiday and everyday sets available with more coming!
When I first introduced close reading to my students, you should've seen their faces when I mentioned they had to mark up the text and read the passage more than once. It looked something like the boy in this picture. I knew if they read it more than once, they'd see how much easier it was to answer questions and respond to text. I just had to figure out a way to make it more fun! See more about that in this post.
So, I set off to figure out a way to make it engaging and yet challenging enough that it was good practice. I created a bunch of leveled sets of passages that reviewed lots of different ELA skills my students needed extra practice or review with. Let me tell you a little bit about what makes them so great!
Each pack comes with 3 texts about a specific topic…one fiction and two nonfiction passages. This is great if you want to have students compare and contrast two texts on the same topic.
Each text has 3 levels. The first level is the lowest and it is written at about a high 3rd grade-beginning to middle 4th-grade reading level. The second level is written for higher 4th -5th-grade students. The highest level is written for 6th-grade students. Since we know our students are all over the place, it's great having three levels of text.
10 comprehension questions written for the first and second read. Questions 1-5 are easier, surface-level questions and are to be done after reading the passage once. Questions 6-10 are a higher level of questioning and are to be done after the second read when the students have a better grasp of the text.
A mystery grid picture is supplied for each text. These are great for teachers to check understanding from students at a quick glance. Students use their answers from the comprehension questions to help them to know which colors to use on the grid. The students work so hard to find the correct answers so that they get the correct picture revealed when they color. They look back in the text and find the answer. This helps to build their confidence in finding the answers.
A text-dependent writing prompt is supplied for each text so students can practice their written responses. This is meant to be done after a third and final read…if you have time.
Bonus graphic organizers are supplied for you in case you want to do more with the text. Plus teacher tips and printables are available to help you get students close reading.
Seriously, we all love these mystery grids. I know my students are getting lots of review, and they don't mind because they get to color the mystery picture as part of it. Win-Win! Click here to see all of my close reading with mystery picture sets by clicking here. 
During the days of the BIG TEST, I have different activities that we work on when we finish the test each day. One thing I like to keep on hand is some stress-free mystery grids where they color just for fun.
What kind of fun things do you do with your students to make test prep more engaging?