Hey all!  I'm back here to give you some more information about Brag Tags…how to get organized with them!  In my last post, we talked about getting them ready to use for classroom management before the school year starts so you can be ready to encourage and motivate your students from day 1.  Now that your Brag Tags are ready, what exactly are you going to do with them?! 


Organizing at Home
When I was cutting and punching my Brag Tags at home, I was careful to keep like kinds together and I would stack them all over my coffee table.  I didn't put them right into my organizer because I didn't want them to mix in with other during travel.  I used each drawer of the organizer to house two different Brag Tags so that I could store more tags in my organizer. (more on that later) To store them until I got them to school, I just wrapped them separately with rubber bands.
Prepping Your Organizer
Here's the organizer that I bought on Amazon.  I love that it has so many drawers for all of my tags.  
It also has the ability for you to separate each of the drawers and put two different kinds of Brag Tags into them.  I just used a piece of card stock and 
custom made one to fit and then used that one as a template to make the rest.  Easy peasy!
Some others I've seen have organized them into binders using the card protectors pictured here.  This would be a cheaper option if you're just getting started.  It really depends upon your budget.  I think either would be an excellent way to organize and keep Brag Tags handy for making sure to hand them out.  
Getting Organized in the Classroom
The last thing you need to organize is where you are going to house the Brag Tag necklaces or keychains in the classroom.  I recommend NOT allowing students to wear them home but that is totally up to you and what you think your group can handle.  The first year I did them, my students took them home and most ended up losing or not bringing them back which resulted in them not really caring about earning more.  
First, I got little sticky clips.  I got the ones pictured because there were 40 in a pack and one pack was enough for the whole class.  Plus, they were strong enough for the necklaces while still being on the cheaper end.

I then found a spot in my classroom and attached the clips right to the wall and then labeled them with numbers.  All of my students have a classroom number.  It makes labeling easy and I can use the same labels for years to come.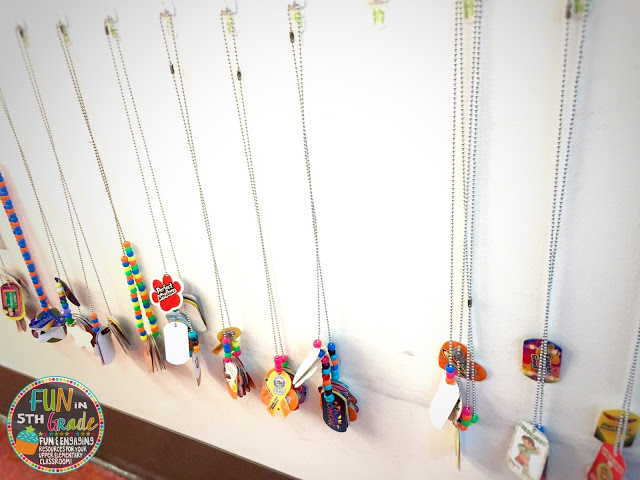 That's all I have on how I organized my Brag Tags.  Don't forget, you can score many awesome Brag Tags to get you started in my Teachers Pay Teachers Store.

Tune in next week to see how I manage Brag Tags in the classroom!  Thanks for stopping by!