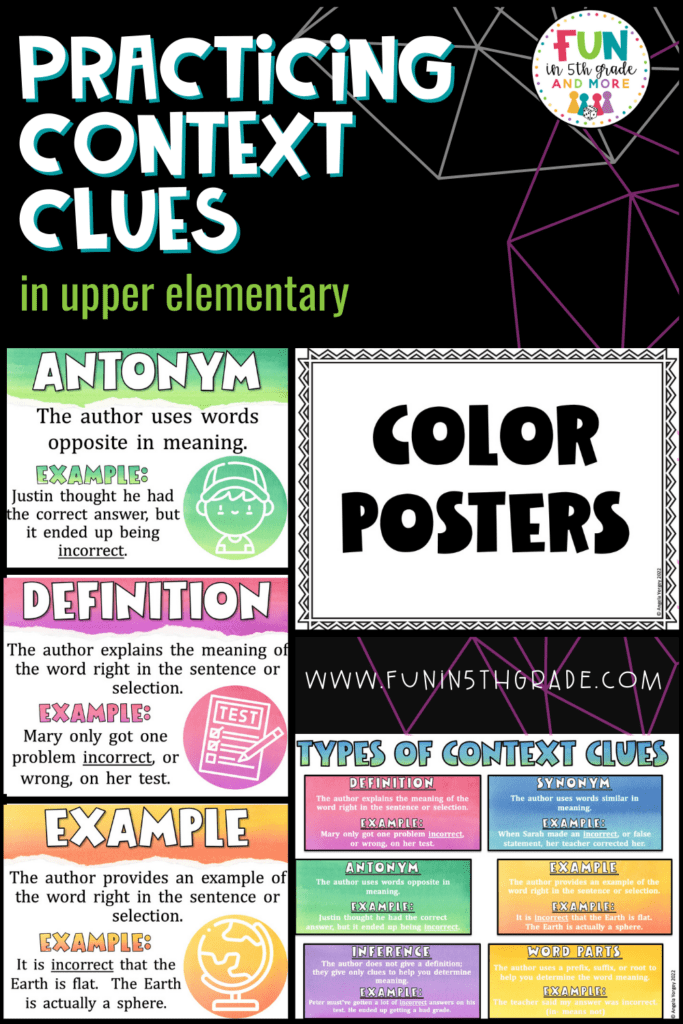 Practicing context clues in upper elementary is easy with these 5 easy activities!
Few things hinder a young reader more than trying to read a new book and encountering confusing, unknown words.
But somehow, many people are able to continue on anyway. Why is that?
How was it that J.K. Rowling was able to create a whole series of best-selling books based on fictional characters who have a vocabulary all of their own? A series that was read by people ranging from upper elementary to adulthood. 
How did everyone understand the words? The language? The jargon?
As an adult, I often come across a word in a book, blog, or news article that I don't know. In actuality, it probably occurs even more than I realize because, through my reading skills, I'm able to deduce the meaning of the word and continue on without too much thought.
How is any of this possible?
That is the magic of teaching and practicing context clues in upper elementary.
My ability to identify unknown words and jargon was developed from carefully crafted instruction and training I got early on in my reading days when I was taught how to use context clues to figure out the meaning of unknown words while I read.
What are Context Clues?
Context clues are the words and sentences surrounding an unknown word that help a reader or listener identify the term (sometimes before you even realize you don't know it).
When we think about teaching students to read, we often begin in the obvious places. We teach them letter sounds, sight words, word families, and sounding out unknown terms, but reading is more than just the identification of a word. It is also about figuring out the meaning behind the word.
When we work with beginning readers, our kiddos are often reading simple texts that use words kids are already familiar with, but as they get older and they begin reading for meaning, learning, and entertainment, the vocabulary gets more difficult, and students are expected to know (or be able to figure out) more words. They have to become word detectives – using the clues provided to figure out the unknown words.
That is what makes practicing context clues in upper elementary so important. Even though we have a dictionary (named Siri) easily accessible most times, students need tools to lean on when their phones, parents, and teachers are not accessible.
Although there are many ways to teach and practice context clues, identifying different types of context clues is a great place to start.
We LOVE these free posters that you can hang up in your classroom as references. They go over many different types of context clues including inferences, synonyms, antonyms, definitions, word parts, and examples. Each poster provides the definition and an example for each type of context clue. Grab your free download below!
Other Activities for Practicing Context Clues in Upper Elementary
Activity Idea #1 | Printing Smaller 'Posters'
Although the free posters can be used as just posters, they can also be used in other fun ways. Personally, I love printing slides smaller and using them in different ways.
For example, you can print all 6 slides on one sheet of paper, print them, and laminate them, and add magnets to the back. Then project a reading passage on your whiteboard and let students label places where the different types of context clues are being used.
You can also print the different posters smaller and on different colors of paper so that each student could have a set for themselves. Then as you introduce and provide examples of each type of context clue, the students can hold up the type they believe is being used.
This is great for some formative assessment and full-group participation. The same concept could be used as students play the Context Clues Game Show.
Over here at Fun in 5th Grade, we are huge fans of using games for learning and reviewing skills, and when it comes to practicing context clues in upper elementary, we have several fun games to choose from. The first is our Context Clues Game Show.
The Context Clues Game Show is a jeopardy-style game that includes the following categories: Name the Clue Type, Fill in the Blank, 6 Letter Words, Word Parts, and Mixed Bag. Each question in the game includes questions specifically designed to practice and identify context clues.
Learn about even more ways to use these Game Show questions and slides in this blog post all about repurposing Game Show slides!
Context clues are one of the many skills that are practiced as part of our Close Reads with Mystery Picture activities. These passages are also great to use in situations like the ones we talked about in #1 above.
These passages are high-interest and leveled for easy differentiation, which makes them perfect for upper elementary students. They also come in a variety of topics and themes. Take a closer look at all the different sets available in this blog post: 12 Months of Close Reads.
Activity #4 | Context Clues U-KNOW
Let students practice using context clues and identifying context clue types with these 56 card decks. The greatest thing about U-KNOW cards is all the different ways you can use them. If you have any U-KNOW cards or grab this Context Clues set, take a few moments to read this blog post that goes over even more ways to use the cards!
If you love these Context Clues U-KNOW cards, then make sure you get both Set A and Set B for the ultimate context clues experience!
Activity #5 | NEW ACTIVITY ALERT!!!
Combine #1 and #4 from this list to create a sorting activity.
Hand out the Context Clues U-KNOW cards and a set of posters (printed smaller) to a group of students and ask them to sort the U-KNOW cards by what type of context clue is given.
Teaching and practicing context clues in upper elementary is about teaching kids to be investigators – asking questions, gathering evidence, and deducing answers while reading and engaging with a text. Soon enough, students will be working through this process on auto-pilot just like we do!