Before teaching 5th grade for ten years, I taught Preschool (3-year-olds). So, using centers to teach and engage learners has always been a part of my lessons. It wasn't until I taught 5th grade that I knew I needed a student accountability piece during centers.
When I taught 5th grade, I had students who would play U-Know just like UNO (without answering the questions). I had students who sometimes argued about the correct answers (before I incorporated answer keys). I even had students who just wrote down an answer without showing work. *gasp* I know.
Student Accountability During Centers
Throughout the years, I used different ways to make students more accountable for their learning without burdening them with tons of extra work, thus making it fun. The strategies used were only when I believed that they weren't getting done what they were supposed to be doing or there were a lot of conflicts.
Keep it Consistent
The more consistent your centers are, the better the students will know what to do (and what not to do) to get right to work. And the more consistently you use centers in your instruction, the more students will know what to expect. For my classroom, I try to have a game day every Friday where I choose the topics I think the students need more practice on. I also incorporate the other pieces below to help keep them accountable.
In the last few years of teaching, I moved towards more of a guided math framework and had centers running daily. They would meet with me and practice the work from that day's lesson, they would have a math fluency center (usually practicing those math facts), and there would be specific skill centers that I wanted them to have more practice with (this is one way in which I spiraled the math and reading skills). I do a modified Daily 5 for ELA with Word Work, Read to Self, Meet with Teacher, Work on Writing, and Skill Work (game).
Make It Fun & Engaging
Students will act up more or find ways of not working if they are bored. So, when I have something that I need students to practice, I will try to figure out how to make it fun and engaging. If I need them to work on a skill, I'd rather them be engaged so that they will retain the information better. I've had students thank me for letting them play games because they better remembered the information for the test.
I have put different task card sets with so many different games. That helps to keep the students engaged and having fun. They only get to do the activity with the cards if their answer is correct, which also helps keep them accountable.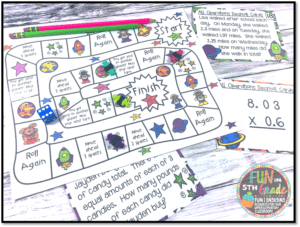 Some things that I've had them do, if they are correct, are to throw the beanbag to score extra points, throw a mini basketball in a mini net, score a touchdown with a tiny football, roll the bowling ball to knock down pins, roll the color die and pull a Jenga piece…the list goes on. They want to do all those things, so they try their best to get the correct answer and score extra points!
U-Know (and other card games) Accountability
I created U-Know games with a built-in accountability piece for students. When they are playing and they discard, they are to read the question and then give the answer. I have a student in charge of the answer key, and they check each answer (except for their own).
Here's the kicker: if they are incorrect, they must draw two cards and take their card back. It's a built-in way to encourage students to get the correct answer. I also include a cheat sheet for students to use when they are first learning a skill or if they need a little reminder…..great for differentiation! If you'd like to try out two free sets of my U-Know games, sign up to get them below.
Task Card Accountability
I use task cards in many different games and activities in the classroom. For most task card games I use in centers, students draw a card, and everyone answers on their task card recording sheet. I made a generic recording sheet (Download recording sheets now) that can be used with any setting so that I can make many copies and use them as needed.
When they play games with task cards, I make them all answer every card. They flip one, and everyone solves and records their answer on their recording sheet. Once they are done, they check their answers with the answer key. Then, if they are correct, they move their game piece, shoot the basketball, or pull the Jenga piece of whatever game I put the cards with. Check out this post for more ideas on how I use task cards with different games.
Use a Checklist
When I first started doing stations with my students in 5th grade, it helped me and them to have a checklist of items that they must complete and then some they may complete if time permits. I've included a simple, editable checklist I used in the download. Click here to get it. I filled it in with examples (see examples in the pic below) for my classroom, but change it to fit your needs.
You could put them into groups and have them check off something at once, and you could include independent activities that they would need to get down. They would get a new checklist for every unit, story, or week…however best works for you. Usually, there were a few blanks that we would add in as the unit progressed. They would add classwork they didn't finish or activities they missed that needed to be done. It worked great!
Do you want to know more about how I use games to spiral content all year? Check out this post.