Check out these ready-to-use, no/low prep activities for practicing decimal place values in upper elementary.
Let's be honest. If you've only covered whole number place value with your upper elementary students, then you've really only covered a fraction of the content (pun intended).
Now, it is time to dive into decimal place values. 
Decimal place value is sometimes more difficult for students as it is a bit cumbersome. Decimal place value uses words that are similar but different from those students have already learned and basically lays those words all out in reverse.
For example, when learning about whole number place value, students are used to the positions using 'smaller terms' as they move from left to right. When they read from left to right, students hear "thousands, hundreds, tens, ones." They have learned to expect this, so when we flip the script on them while still using similar terms, it takes a moment for them to recalibrate. 
Now, working from the decimal point to the right, they skip the ones altogether and jump straight to the tenths, hundredths, thousandths, and so on. Although we know that these numbers still get 'smaller,' many students struggle to understand how something with the term 'hundred' can be smaller than something with a 'ten' in it.
This is confusing.
That is why we will need to practice, practice, and get it down and eliminate as much confusion and frustration as possible.
An Interactive Place Value Chart
In my room, I displayed an Interactive Place Value Chart, so students are regularly exposed to place value positions in the classroom.
This Place Value Chart is incredibly useful and can be used for a whole bunch of different activities. To read more about those, take a closer look at this blog post called 3 New Ways to Use the Interactive Place Value Chart.
So, first things first, grab your Interactive Place Value Chart today and get it hung up ASAP.
5 Activities for Practicing Decimal Place Value
After you've used the interactive place value chart as well as some of your other methods to introduce decimal place values to your students, it is time to practice!
Here are some of my favorite activities for practicing.
#1 | Get out the Money
When you start looking for activities for practicing decimal place values, look no further than your piggy bank.
First, get out some coins and hand out a random amount of change to each student.
(This can be play money of course!) Once you've handed out some change to each student, ask them to count it up and write out the final number in dollars and cents as well as the full expanded notation for the amount. You can do this several times. Sometimes just using dimes and pennies, sometimes using just pennies and nickels, sometimes using quarters and pennies, and then combining them all.
A fun way to turn this into more of a project is to ask students to bring in change from home that you'll use for the activity, and as students practice, they'll add the change they've counted and defined to a class total (which could be displayed using the Interactive Place Value Chart). At the end of the day, lesson, project, or week. Students will choose a charity or organization to donate their total amount of change.
If you want a no-prep activity that can be used in a whole group setting, with a small group, or even as an individual center activity, then you'll enjoy the Decimal Place Value Game Show. The Game Show is set up jeopardy-style with 25 different opportunities for students to practice place value.
Read more about how to up-level your Game Shows here!
#3 | Magical Dice
This activity for practicing decimal place value was originally outlined for whole numbers in the blog post 3 New Ways to Use the Interactive Place Value Chart.
In this magical dice activity, students interact with their Interactive Place Value Chart based on the instructions provided by their magical dice, which have the power to change numbers.
To begin, create rules for your die/dice. For each of the numbers on the die, create a rule. Since we are specifically working on decimal place values, here are some examples of rules you could use.
Change the tenths position
Make the hundredths position bigger
Make the number smaller
Subtract 4 from the hundredths position
Add .025 to the number
Create a whole new number by changing 2 of the digits
As either a center activity or a full group activity, have the student roll the dice and then perform the action using the interactive numbers and your place value bulletin board.
Ask the students to roll the dice 5 times and document the progression of their number over 5 rolls of the dice. For each new number they get, they'll document the number and write out the full notation next to each.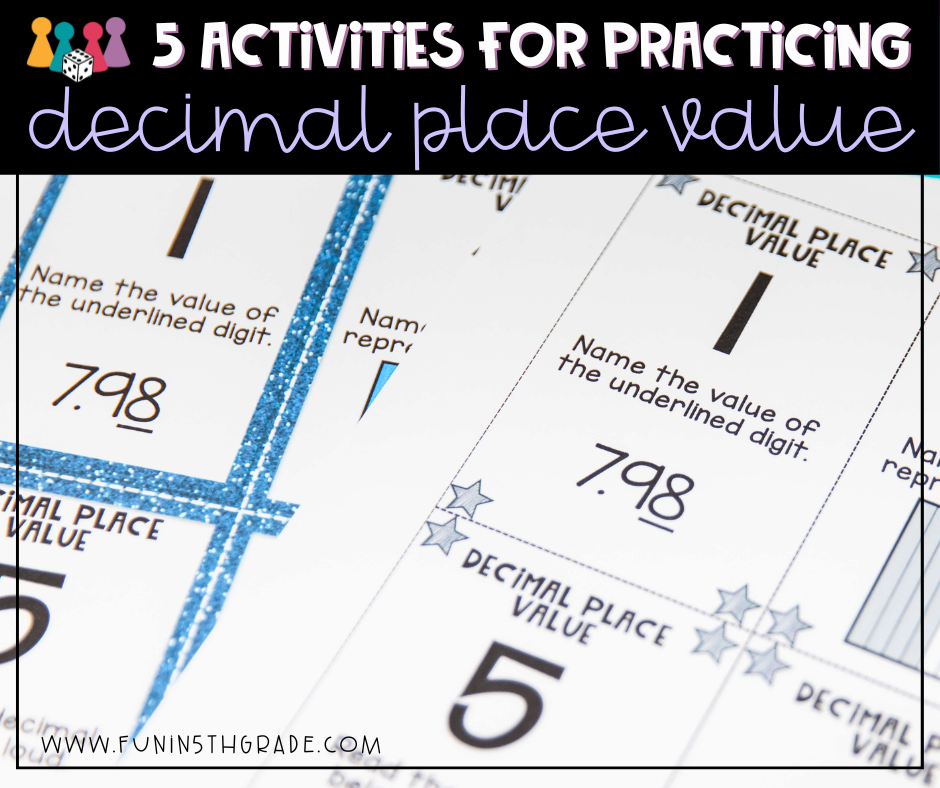 #4 | Place Value U-KNOW
If you are looking for some small group activities for practicing decimal place value, get your hands on this Place Value U-KNOW deck. These U-KNOW cards are so versatile and can be used over and over again. For more ideas on how to use these cards check out these blog posts.
#5 | Unique Task Cards Games
Lastly, you can use our task cards to play some fun games.
We have two different sets of task cards that may be helpful for a variety of activities for practicing decimal place values. First, we have the Place Value Task Cards, and then we also have our Rounding and Estimating Task Cards. 
Some of my favorite ideas for using these cards can be found in the blog post called 3 Unexpected Ways to Use Task Cards. My favorite is Task Card hopscotch which you can find explained further in this post!