Figurative Language fun is sure to be had with these 10 figurative language activities and resources.
Things that make the world better…
Good friends
Movies with popcorn
A hot beverage on a cool day
Bonfires
Crazy, silly kids running on the playground
Figurative Language…
….wait what?
I know that many of you may be thinking that figurative language does not belong in the same category as a bonfire or popcorn, but if we didn't have figurative language, I would struggle to compare the heat of the bonfire with the warm summer sun or say that the butter was beaming it's radiant smile at me from its spot atop my popcorn as I made my way to my seat.
Whether you, like me, consider figurative language one of the most fun units to teach or not, you have to admit that the use of figurative language makes life a bit more exciting.
Figurative language gives us "Moves like Jagger," Chitty Chitty Bang Bang, and "Can you Feel the Love Tonight."
However, creating all those examples and remembering all the different types of figurative language can be a lot on a teacher, and sometimes at the end of a long day, it is hard to come up with a good metaphor or an unforced example of alliteration.
So, whether you are needing some activities to introduce figurative language or you are looking for some ongoing review as part of your 30 day test prep plan, we've got ideas and resources for just the figurative language fun you're looking for!
8 Activities for Figurative Language Fun
#1 | Free Figurative Language Sort
This quick activities asks students to review a group of examples and sort them into their respective categories. I like this sort as a pre-assessment or a center activity. You can also let students work in pairs so they can talk through each example. With four different activities in one, you can use this activity four times in the same week or spread it out over the course of the entire unit!
Another sorting option is to use the list of figurative language examples that we created for this post, cut them out, and let students sort them into the different figurative language categories. You can even laminate and use the base sheets from the Figurative Language Sort activity as a template!
Note: You can do this with any list of figurative language examples!
During the colder months, you can get in some practice and review with this fun, puzzle-like activity. The Winter Figurative Language with Mystery Picture activity includes 15 examples of figurative language and a fun corresponding coloring activity. This is a great individual activity for centers!
Sometimes it is nice to have a resource to help guide instruction, and that is exactly what this flipbook is! This Figurative Language Flipbook was created to help teachers get their students started learning about the different types of figurative language. Each page includes a definition, examples, and a picture, so it is the perfect resource for getting students started and organizing this new information!
Figurative language fun would not exist without stickers! In this digital Sticker-Style activity students earn stickers as they identify the different types of figurative language. I really like this activity as a digital center because it is self-checking, which makes it perfect for students who need some extra work identifying the examples in a safe, fun environment.
One of my favorite activities to use for test prep is the Figurative Language Game Show. This game show gives students a chance to review figurative language in a game setting while also getting a chance at a little competition. This activity is perfect for test prep time. You may even want to include it as part of your 30 day plan for test prep!
Note: We have lots of resources to support the use of our Game Shows in the classroom, so make sure to check out this post to see what other blog posts we've written about Game Shows!
With 56 cards, this U-Know game provides students with a lot of opportunity to practice identifying figurative language examples. Once your students are done playing the initial game, they can also use these U-Know cards to play 'Markers' or 'U-Know War'!
Here is another great digital activity for some figurative language fun! In this game students work their way around a digital game board (using Google Slides) in an attempt to reach the finish line before their competition. Along the way, they are answering figurative language-related questions. I particularly like this activity as a group center game because it only takes moments to setup, provides answers, and allows students a little healthy competition.
Although I love figurative language, it is often difficult for students to wrap their minds around, especially those students who do not speak English as their first language. That is why I often focused on teaching figurative language through literature, and in this case, literature means picture books! Check out some of my examples and suggestions in this blog post!
If you are just looking for a way to get started, and you want to see how I lay it all out, you'll definitely want to dive into this blog post all about getting started with figurative language in 5 days. You can see up-close how I use some of the other activities on this list (as well as some others) to introduce figurative language to my students!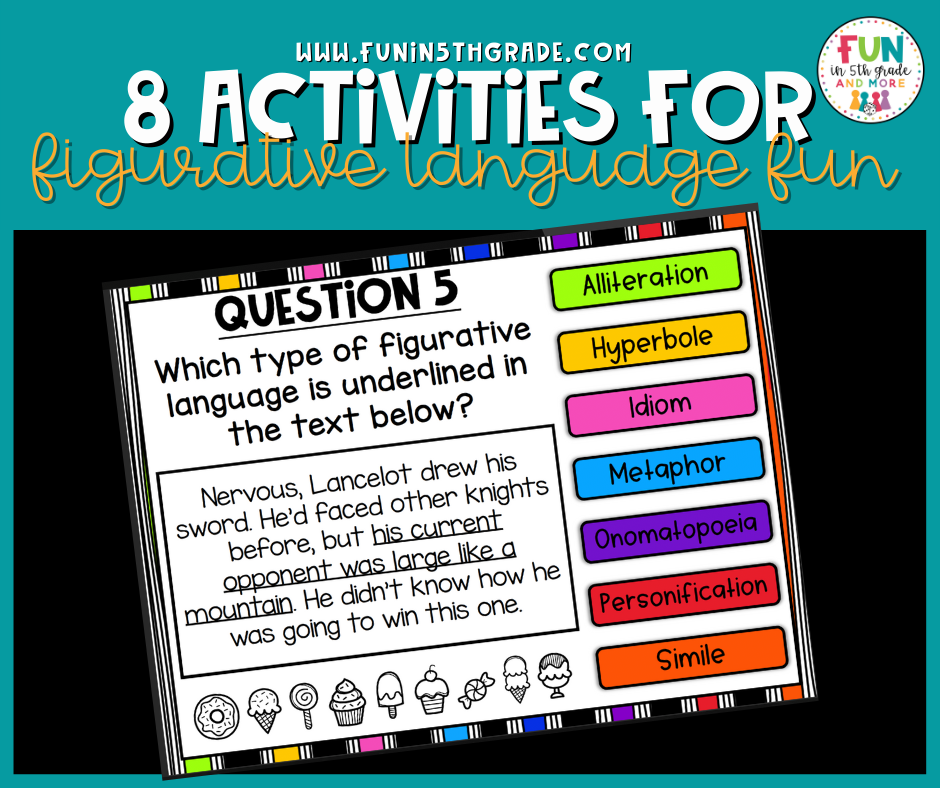 Whether you are just getting started, or you are looking for review, we've got activities to keep students engaged and having fun. Don't forget to create some examples of your own or pull some examples from some of your favorite movies, songs, or books. We truly hope you enjoy the experience that is teaching kids about the power of figurative language!