It happens every end of the year. The big standardized test comes and goes and the students think the year is over. Even as I emphasized the test less and less, I still had students that thought they didn't have to try anymore once the test was over…and we still had two months left! I had to do something because this just wasn't going to work for me. Before I knew it, this time after testing became my FAVORITE time of the year!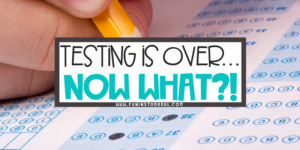 Let me explain…This time of the year can be crazy with all of the trips and interruptions, and end-of-the-year activities! And let's face it, teachers are BURNT OUT. For me, this means I have to up the engagement, even more, to get them to buy in and not give up. This is where I shine! I can now do all the things that I've wanted to do but didn't have the time because I had to keep moving through the pacing guide. Now, I have the freedom to be the teacher I'd love to be all year!
Sure, it can be a lot more work but I have students engaged each year until the very last day when we're trying to finish up some of the things that we just will not have time to finish. In this post, I'm going to share with you some of those end-of-the-year engaging activities that still cover content (for the most part) but in a fun way so students actually WANT to keep working until the very last day! I don't just want them doing busy work (even though I sure do have some of those types of things handy) but I want them to continue to learn and grow.
End of the Year Activities
Create & Play Review Games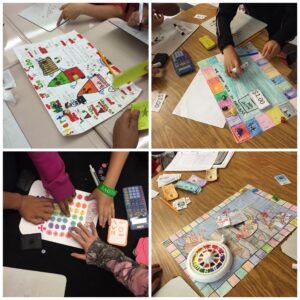 One of the things that I've always done every year is having students create review games based on the content from that year. Usually, we do these games for math but I'm sure you could do them for whatever content area you'd like. Students can work individually, in pairs, or in groups to create a fun review game on a specific topic. Since we play games all year, this is always a fun activity for my students since now it is their turn to make a game. They have so much fun doing it and then we have all of those fun games to play in between the end of the year activities. I usually give them some sort of rubric with a list of components that the games need.
Here are some ideas for them to include:
Rules/Gameplay for their game

Numbers of players
Supplies needed
How to play
How to win
Rules for the game

Gameboard of some sort…although not always necessary depending on the game.
Problem cards or question cards of some sort
I've seen some pretty awesome games over the years. I give them paper, supplies, and a rubric. They let me know the topics they would like to focus on and then they get to work. I've had balloon games, card games, mathopoly, and more. We have so much fun playing and reviewing with them, too!
Read the whole blog post about this activity here and grab some freebies over there to help you get started!
FUN Close Reading Activities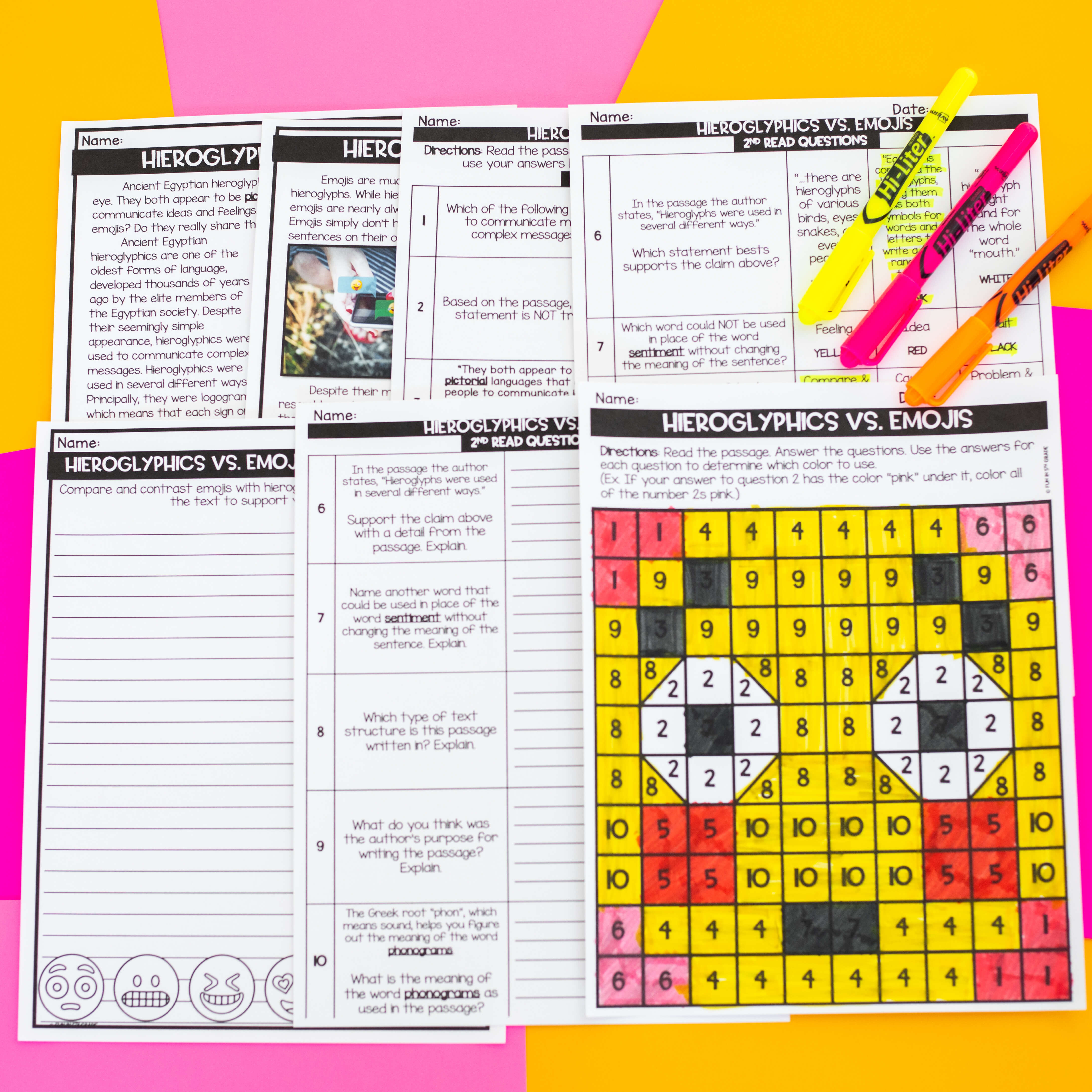 I do like to keep everything relating to content until at least the last two weeks so these close reading packs come in handy. Not only are the articles HIGH INTEREST and the questions rigorous, but the mystery picture is super engaging for students. You will have students WANTING to re-read and find the correct answers because they don't want to mess up their pictures. Each pack is filled with a review of ELA standards! Click here to find all of the close reading packs I have available right now.
Summer Bucket List Writing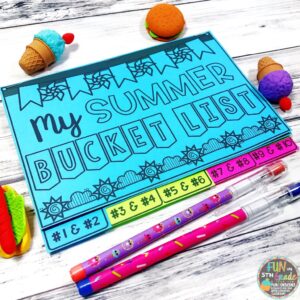 I created this summer bucket list freebie a few years ago and I love using it in the last month of school. I even have my own children at home complete one so we have some goals for the summer. Basically, it gives them space for 10 different activities they'd like to do over summer break. These activities can be anything from "read 10 books" to "visit an amusement park". Just to keep it realistic, I have them make at least 5 of the activities ones that are free or that they can do on their own without an adult. Then they have space to write about how and why they have added this to their bucket list. It's a fun way to incorporate what they are already thinking about…summer, with some writing. You can find it in the free download. 
Monster Writing Activity
This is another favorite of mine, as well as, the students. Each student privately draws a picture of a monster on a piece of white paper. They have little instruction but that they should include colors and add details to their pictures. No stick figures! Once they complete their drawings, they are then instructed to write about their monster, describing it in great detail. I usually give a little mini-lesson on how to write descriptively. I tell them they need to be as specific as possible and describe every last detail of their monsters. I have them write their names on the back of their pictures and their writing. Then, I collect them all.
After that (usually the next day), I separate the pictures and the writing. Then I hand out a writing piece to each student with a fresh piece of white paper. I try not to give them the writing of anyone that sits near them as they may have snuck a glance of the other student's monster. They are then instructed to read the writing once through. Then they read it again, this time trying to recreate the monster based on what was written on the paper. When they are done, I have them write the name of the person whose monster they drew along with their own name. "Liliana's Monster by Devin"
Now it's time for me to do a little organizing. I match up the drawn monster with each of the originals. This is where it really gets fun. We go through all the monsters together, first I show the drawn monster from the instructions and then the original. The students LOVE it. You can see the looks on their faces when they look nothing alike because they realize they didn't describe it well enough. It's such a fun activity!
Brochure/Letter/Presentation to Next Year's Class
Having students create something for the next year's class is always a great activity. There are a few ways it can be done but basically, the students write a letter, create a brochure, or make a presentation on Google slides about your classroom for the students the next year to learn more about you. It's great because it gives the next year's students an inside look at what it's like to be a student in your classroom and what fun things they may get to do.
Here are some things you may want to have them include if you do this activity:
Things about their teacher
Things they can look forward to
Tips for Success
Things you will learn
Favorite memories
Rules
Highlights from the year
Words of encouragement
Best projects
Memory Books
I usually wait until the last two weeks to start these but my students LOVE them. They are perfect to pull out in between classes, field trips, assemblies, and other activities. I love them because they take a long time for students to complete and color so it keeps that occupied for all of those in-between times. The best part is I had a few different themes and students got to pick which ones they liked best to make it really represent them. Pictured is one of the themed memory books I offer in my TpT shop. I have 8 themes in total: Emojis, Coloring Book, Cactus, Candy, Video Games, Mustache, Rock, and Sports. Click here to check them all out.
Kindness Challenge Countdown
The last 25 days, we usually do a kindness challenge of some sort to keep students being kind and respectful of each other. I write the items on the rings and I loop them all together. We rip one off each to complete together. Some take 5 minutes, some longer but it's always nice to focus on kindness this time of year. I created this freebie for you if you want to try it. Also, if you print it out on different colored paper, the rings will look much more fun. You could even have the students create a new strand of their own when they complete a challenge with the example on it. Like if they were supposed to give someone a compliment, they could write how they did that and you can create a new strand with all of their kindness examples, too!
Create a Country Collaboration Project
This next one is one I either do towards the end of the year or in the afternoons of testing days. I put them in groups and/or partners and they create their own country with its own flag, bird, and currency. They really work nicely together on this and have a lot of fun with it. I give them a big piece of bulletin board paper to display. I give them the list of things they must provide for their country. We go over them all and I explain each one. They usually ask if they can add more things and I allow that once they complete the required elements. We also talk about creating rough sketches first and how we need to discuss each element before the final version gets created. I also included this printable for you in the free download. 
Student Surveys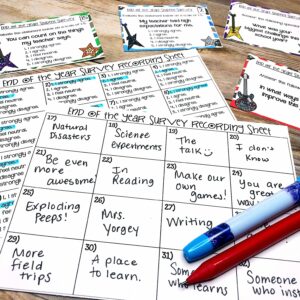 Sometimes in these last two months, I always like to get feedback from the students about our time together. It's super important for me to reflect and evaluate my teaching for the year and come up with goals for next year. I take what my students say in these surveys into considerations when making those goals. Plus, I get some honest answers about how the students feel about our classroom, projects, and me as a teacher. Personally, I make them name optional because I want honest feedback. I made these Student Survey Task Cards a few years ago to help me with this. I even added a Google Form version so teachers can organize the data quicker and more efficiently.
Project-Based Learning
I love project-based learning but I didn't always get to do as much of it as I liked, so I always do atlas one project during this time with the students. They always enjoy this alternate way to learn and incorporate the standards we've been working on. My favorite projects come from April at Performing in Education. They are standards-based, fun, and engaging! Here are some tips from her blog on how to get started. Pictured is a fun project where students create their own candy store! My students loved doing these projects! Click here to check out the project.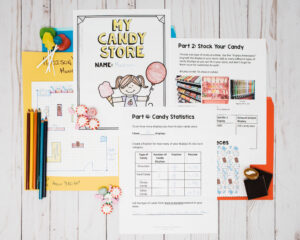 STEM/Science Experiments
While I'd like to say that I get to do all the science experiments that I want to, that isn't always the case. So, each year after testing, I make sure to get some of those experiments in. The students always BEG for more science experiments so this is a great time to incorporate more and keep them engaged!
Passion Projects
Passion projects are one of my favorite activities to have students work on at the end of the year. They choose a topic they have a passion for and that they would also like to know more about. They brainstorm questions they have about the topic and then research to find the answers to those questions. Once they have found and organized their research in some way, they then have to figure out a way to present it. Most choose to do a Google Slides presentation. It's a great way to see more of their interests and show them that we can always be learning more about the things we love.
Virtual Field Trips
The last activity that we always love doing is some virtual field trips. We have a big Promethean board and I use it to display the places that we visit. It's a great way to get out and see the world without really ever leaving the classroom. We have regular field trips too but we have to raise all of the money ourselves so those are limited. This is a great, budget-friendly way to get more field trips with your students. Just do a search and I'm sure you can find some great ones.
Here are a few I found:
Use Google Earth to visit anywhere in the world…also be prepared to visit each student in your class's house. You can even click on "feeling lucky" and get a surprise location to visit. Students could seriously do this all day. Tie it into a book you're reading or a social studies topic you are learning about. The possibilities are endless!

Discovery Education

has a boatload of different virtual field trips based on so many different topics. They even provide teacher resources for you to use!

"Each no-cost Virtual Field Trip comes with a companion guide packed with standards-aligned, hands-on learning activities!"

Common Sense Media

also put together a collection of virtual field trips found on the web. Lots of different ones that you can check out.
There are tons of them out there…a little Google or Pinterest search would also help you find more specific ones to what topics you have in mind.
Expose Students to Next Year's Standards
If we finished our pacing guide and still have time left in the year, I take a look at the next year's standards and expose the students to those if I can. We'll do hands-on, fun activities that get them practicing those standards so that they will have a head start for next year…if they remember them through the summer.
I'd love to hear more about what kinds of things you do after testing to get through the rest of the year and still have FUN!
Find even more end-of-the-year ideas here.