When you're looking for the best activities for practicing multiplication and division facts, look no further than these fun, interactive classroom resources!
The journey to math greatness often takes a long layover…or maybe just an extended pause around multiplication and division. After spending so much time working on adding and subtracting in all their forms, multiplication and division are sometimes a difficult leap for students, but, as we all know, they are necessary skills that our students must learn.
If they don't learn their multiplication facts, our students won't be able to quickly estimate the cost of attending a movie with their friends, figure out how many eggs they need to double or triple a recipe, or estimate how much money is up for grabs at their local charity BINGO night.
And division…don't even get me started on division. If our students can't do quick division facts, how will they ever be able to figure out how many slices of pizza everyone should get or how many cookies each kid at a birthday party can have? Chaos would ensue!
We use our quick multiplication and division skills daily to make quick work of all kinds of small tasks like the ones listed above. You may not have even realized that when you purchased a dozen donuts to share with your colleagues at work that you planned on each of your 5 friends eating two of them.
Our ability to quickly multiply and divide has been ingrained in our brains since we were young, but how did we get so quick at it?
Practice. A whole lot of PRACTICE.
Maybe NOT the BEST activities for Practicing Multiplication and Division Facts
What I remember from being in school is that we didn't necessarily have the best activities for practicing multiplication and division facts. We often did timed, memory-based tests, and if I remember correctly, we did the same ones daily. The only difference (if we were lucky) was the color of paper the tests were printed on. Although they weren't super interesting, I guess they did get the job done as I have been multiplying and dividing like a pro ever since, but I think we can do better than that now.
With all of the technology out in the world, I think the best methods for practicing multiplication and division facts include a good combination of digital and hands-on activities and so good ol' fashioned exploration of multiplication tables.
My Best DIGITAL Activity for Practicing Multiplication and Division Facts
If you are looking for a no-prep, single-link, self-checking activity you can share with students to practice multiplication and division, then you'll love these Digital Puzzles.
The puzzles were designed with new multipliers and dividers in mind as they add an extra level of support for the students who need it through image-based clues.
Each Digital Puzzle set comes with three different self-checking puzzles for students to solve and a recording sheet for each so that you can monitor your student's progress. Each student can do the puzzles as many times as they like, and the puzzles are easily linked using a URL link you can share with students.
These puzzles are both a time-saver and a great way for students to practice on their own!
Take a closer look at our digital puzzles in this post.
My Best HANDS-ON Activity for Practicing Multiplication and Division Facts
When it comes to hands-on fun, U-KNOW is one of the best ways to get students interacting with each other while also working on their skills.
U-Know is a fun and engaging card game where students practice topics in a repetitive way. I also use U-Know in stations or with early finishers throughout the year to spiral concepts for students.
U-Know is played with students matching color/number to the card the previous player put down. Once they put their card down, they must read and answer. If correct, play moves on. If incorrect, the player draws 2 new cards and play moves on. Students check answers with the included answer key.
There are also so many ways to use U-KNOW cards. Read about many of the different ways you can use your U-KNOW cards in this post all about repurposing and reusing your U-KNOW decks.
We have also created a few posts on some other games that you can play with U-KNOW cards, like 'Markers' and 'War.' Learn about them by clicking on the pictures below.
My Best EXPLORATION Activity for Practicing Multiplication and Division Facts
If you want to allow your students to explore multiplication and division and consider some of the patterns and reasons why it all works the way it does, we have a FREE Multiplication Facts Chart that you can download now to use with your students.
I love giving my students time to think through how multiplication works, consider patterns, create images and visual guides for remembering different facts, and generally just think more deeply about what multiplication really is.
I also like them to see how division and multiplication are used together to solve problems.
Grab your FREE Multiplication Chart today to see what your students find.
Note: The Multiplication Chart is also a good 'cheat sheet' for students as they work through the other activities. Get creative by creating different 'levels' of cheat sheets. This can be accomplished by blacking out or covering different parts of the sheet when printing.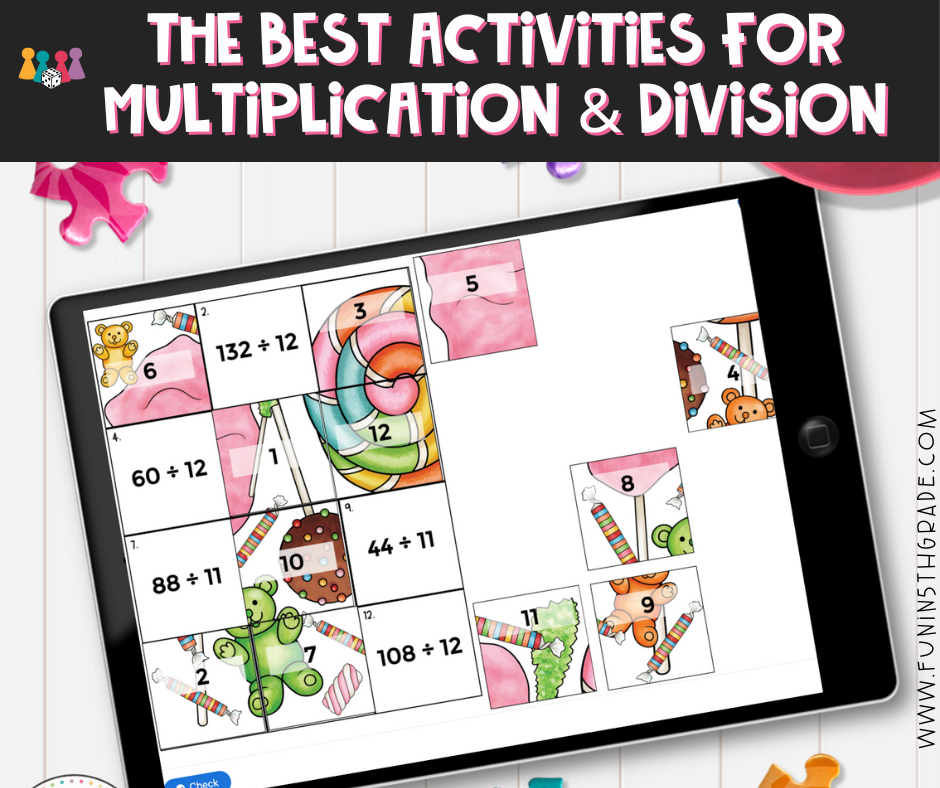 When they start multiplying and dividing many students will hit a bit of a roadblock, but that is why they need fun, review and practice activities that keep them excited to keep learning.
These are some of the BEST activities for practicing multiplication and division facts because they give students a chance to practice in different ways with different levels of help.
Looking for even more ideas for practicing math facts? Check out 8 Ways to Practice Math Facts!