This Fun in Fifth Grade Classroom Supply List goes beyond the typical expo markers and pencils; instead, we are recommending tools and supplies that will inspire the type of creativity that up-levels classroom lessons and activities!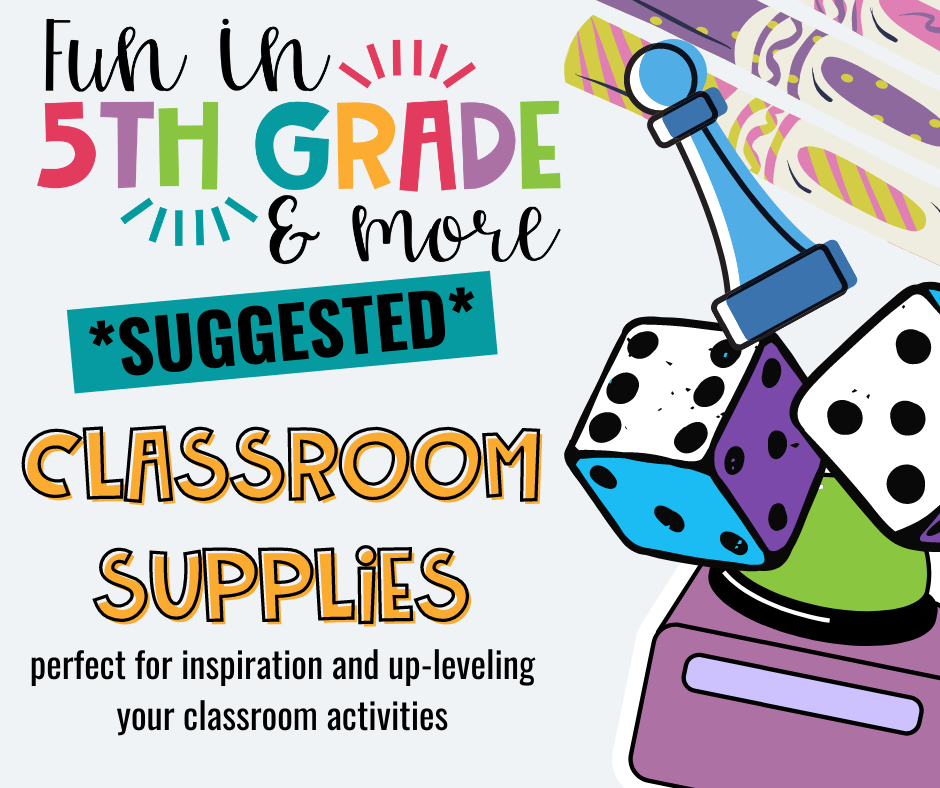 I was walking through the dollar store the other day, and I came across a set of large foam dice that are made for you to write on them with a dry erase marker. I immediately picked them up for both my own use and for my children's teachers.
Once I saw these dice, with their ability to be manipulated, my mind began reeling with all the ways I could use them.
I considered the resources I already use with my students and how these dice could be added to them.
I could…
…use our Game Show resources and put each topic on one side of the dice and the amounts on another dice. Then students can roll to determine which question they'll answer next.
…pull out six different U-KNOW decks (each covering a different skill) and list the skills on each side of the dice. Once the student rolls, they would then pick up a card from that deck to answer.
…write the name of each student on a group on the dice, and when we are doing a large group game, I could roll the dice to determine who will answer the question on behalf of the group.
I also considered how I could use the dice with some of these games for learning and reviewing classroom procedures.
It's amazing how one set of foam dice could inspire so much creativity. So, we decided it may be time to spread the love a little.
In this post, we have put together a Fun in Fifth Grade Classroom Supply List for teachers that is meant to inspire creativity and get you and your students thinking outside the box a little.
Fun in Fifth Grade Classroom Supply List
#1 | Dice, Dice, and More Dice
Obviously, with my awesome dry erase foam dice find, dice were guaranteed to be on this list, but I have a couple more specific suggestions and some links that you may find useful.
(This post features affiliate links. This means that, at no cost to you, I get commissions for purchases made through the links in this post.)
50 Pack
First, we strongly suggest getting a variety pack of dice (ideally something in the 50 pack range). This inexpensive 50 pack in a variety of colors are some that I recommend. Having a whole bunch of dice can give you more options and flexibility. They also follow the same color combination as the U-KNOW decks, so maybe there is a new game brewing in there somewhere! These are a larger version of the colorful dice. I don't know if you are the same, but for me, bigger dice seem more playful!
Black Out Dice
If you remember back to Halloween time, we talked about doing glow games. When I saw these black-out dice, I immediately thought about how they may be just the thing to make my glow games even more fun!
GIANT Inflatable Dice
These inflatable dice are easy to store…because they deflate, but I also see a lot of potential for them especially if your class ever moves outside or into the gym for an activity.
Dry Erase Dice
Of course, this dice list would not be complete without the dice that sparked so many of my own great ideas. These dry erase dice allow you to make the dice anything you need them to be! (See my notes above for inspiration!)
#2 | Additional/New Game Pieces
Spinners
I love these spinners as you can write on them and wipe them off so they can be used in a wide variety of ways. You can use them to replace pieces from a game you already have, or you can use them to add a new element to a game you already have!
Game Boards
You can grab a free digital game board in this post, or you can head to Five Below or the Dollar Store and pick up some inexpensive games to put together a collection of gameboards your students can use with task cards to create new games. I also LOVE this create your own game board from KEFF DIY that allows my students (and myself) to make our own game boards!
Buzzers
Adding buzzers for students to use to 'buzz in' or raise their hands doesn't have to be just for games. I think that once you have this set of buzzers in your classroom that you'll find many ways to use them.
As a special little bonus, I also found these 'recordable' buzzers that you can use to record directions to the game, or each student can record their own sound to 'buzz in'. Again, use these for inspiration!
Timers
Timers come in so many different shapes and sizes with different purposes. Here are some that I like for classroom use…for a variety of purposes
Sand Timers (for a variety of time lengths)
Digital Timers (students can quickly see exactly how much time they have left)
Magnetic Timers (because if you can just slap it up on the board or a filing cabinet it is much less likely to be lost!)
Game Pieces
Of course, no supply list would be complete without some game piece suggestions. Here are some of my favorites!
#3 | Extra Games (That already exist)
One of the benefits of using task cards of any kind in the classroom is that you can use them to play lots of games that already exist. You play the games the same way as always, except in order to move/spin/roll the die they need to answer questions correctly.
As you look for some games to add to your classroom set, you can start here, but I've also listed some of my personal favorites for the classroom below.
#4 | Stroll Through the Dollar Store
We always recommend strolling through the Dollar Store for inspiration and to pick up some of the games and activities that are in this post. For just $20, you can get almost everything we purchased for this post!
#5 | Dry Erase Boards
In an effort to save paper and resources but also improve classroom efficiency, dry erase items are always a good idea. We have a couple different dry erase boards that we like to keep close at hand in the classroom.
We strongly recommend getting a class set of White Board clipboards (I like these for their dual purpose. In addition to writing directly on the whiteboards, students can use them to hold recording sheets while playing games. Recording sheets were a big part of accountability in my classroom. Read more about using recording sheets for accountability in this post!)
We also feel inspired by these double-sided, magnet whiteboards and these magnetic dry erase cards that can be used like sticky notes!
Home Laminator
The last item on our supply list is one that is a bit of a luxury, but once you have your own home laminator, you'll probably always have one. A home laminator allows you to save time at school, and preserve your resources. We recommend a combination of this laminator and these pouches. One of the ways we use the home laminator is to make our games last longer. In fact, we have written a whole post about just how important this is. Check out the full post here!
Now, obviously, we also recommend the typical classroom supplies like extra pencils and pens, and stickers, but this list really covers many of the additional items that act not only as manipulatives that make your classroom run more smoothly but also as awesome resources for inspiration. We strongly suggest getting all of your items out someday and letting the kids use them to explore and create.
Toward the end of the year, ask your students how you could use these items to improve on the activities that you've done throughout the year. Between you, your students, your creative brains and your imaginations, we know you'll find these items to be just as magical as we do!